It's Okay to Be Mad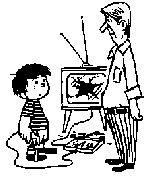 A workshop about dealing with our own anger and helping our children deal with theirs.
Deirdre Knowles, MA LMHC
General Information
When & Where
Location, date and time can be scheduled to fit your group's needs.
Scheduling information:
Contact dknowles@dknowles.net
Instructor
Deirdre Knowles has over thirty years experience working with parents and leading parent education and support groups. She received her M.A. in Psychology from Antioch University in 1992, where she concentrated in Family Systems. She studied Family Ministry at Regis University in Denver and also trained as a mediator. She conducts workshops throughout the state in parenting, personal growth, improving relationships, conflict management, and communication skills. She also has a private therapy practice in Renton, Washington, where she helps individuals, couples and families create more fulfilling lives. Knowles is the mother of five.

Course Description
Part 1 - Anger Overview
Defines anger and examines the way we view it. It also explores the styles of anger and what people do when they become angry.
Part 2 - Helping Children with their Anger.
Prevention: Learn how to keep their emotional tanks full and recognize the developmental stages of anger.
When Kids are Angry: Learn how to lower the emotional level, set clear limits, and identify needs versus wants. Also explore how to help children express those needs and discover creative problem solving.
Workshop includes bibliography for further study.
BRING YOUR QUESTIONS!

Why come to this workshop?
You will learn:
Ways to vent anger that lead toward solving the problem.
Identify the first emotion, in order to make better choices.
How to "Fix the problem, not the blame."
How to use communication skills to get what you need in constructiove ways.
When to intervene (and when not) in children's quarrels.
Use "sound bites" to help children (and adults) make changes.

Workshop Sampler
Basic Ideas
Anger is an intense desire for something to be different. It is an energy, not a behavior.
Anger isn't right or wrong. Our behavior when we're angry is what can cause problems.
Learning to manage our own anger more effectively is the best way to help children learn to handle theirs. (What we do speaks louder than what we say.)
When anger is out of proportion to the "trigger," it indicates there are underlying issues that need to be dealt with.
The skills presented are appropriate for all ages, from small children to adult.
The earlier we recognize the onset of anger, the easier it is to deal with.
How Do You View Anger?
Anger can serve positive purposes:
Vent energy
Signal a need for change
Get attention

especially my own - telling me something is bothering me
others' - if I get listened to when I am angry

Help to identify a problem, the first step to a solution.
Anger is a secondary motion - something else came first
Disappointment
Fear
Powerlessness
Loss
There are degrees of anger, some we may not think of as anger.
The sooner we notice it, the easier it is to deal with.
Skills for Solutions
Lower the emotional level.
Hear and respect feelings.
Identify the real issues.
Set limits on harmful behavior.
Find solutions that work--for everyone involved.
Article: "When You Feel a YELL Coming On..."

Questions, comments, suggestions? E-mail me at dknowles@dknowles.net.